NYC Winter JazzFest 2010: Sustaining the Future
by Sharonne Cohen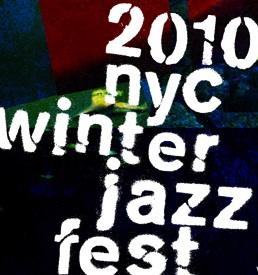 An infectious wave of energy blew through the NYC jazz scene on January 8th and 9th as the sixth edition of Winter JazzFest hit a two-block radius in the West Village. The festival has continued to expand and evolve since its inception in 2005, transforming into a well-attended, much anticipated off-season jazz extravaganza. Coinciding with the JJA (Jazz Journalists Association) and APAP (Association of Performing Arts Presenters) conferences, the festival showcased 250 musicians playing in 55 bands. Showcased through abbreviated 40-minute sets, these artists offered more than a glimpse of contemporary jazz in its myriad facets and wide-ranging influences.
Artists as diverse as Dr. Lonnie Smith, the 28 year-old drum phenom Mark Guiliana and the much-buzzed-about Vijay Iyer Trio packed all 5 performance spaces as a steggering total of 4,000 people - musicians, jazz heads, presenters, producers, managers and agents - roamed from venue to venue, maintaining sunny dispositions despite having to wait in line in frigid temperatures. The five venues (Le Poisson Rouge, The Zinc Bar, Kenny's Castaways, Sullivan Hall and The Bitter End) were filled to capacity throughout the festival's two nights, making wandering between shows somewhat difficult; once you were inside, you didn't really want to leave for fear of not being able to get back in, but there was that

other

thing happening at the club next door, a real predicament which, given the festival's steady growth, might need to be addressed by the festival's founder and producer, Brice Rosenbloom of boom BOOM Presents, in preparation for next year's edition.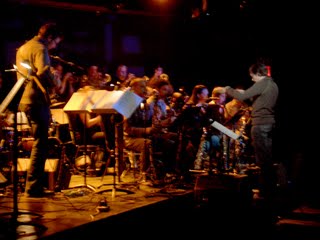 The festival's program, packed with overlapping shows, required careful planning of my itinerary. My journey began at 6:20 Friday evening at Le Poisson Rouge, with Vancouverite Darcy James Argue's Secret Society. I'd been waiting to hear the big band live since the release of Infernal Machines; it was a good omen for things to come, the band showcasing Argue's progressive, multi-layered writing, horns shining in particular. Next up was bassist Ben Williams, winner of the 2009 Monk Competition and member of Stefon Harris' Blackout, playing at the small, overly-packed Zinc Bar, where sound issues diminished our capacity to appreciate this virtuosic young bass player. Williams and his Sound Effect, consisting of Jamire Williams on drums, Jaleel Shaw on alto and Dave Bryant on keys, played a bebop, pop and hip-hop-infused set with material ranging from Buster Williams' Christina to the lesser-known Michael Jackson tune Little Suzie.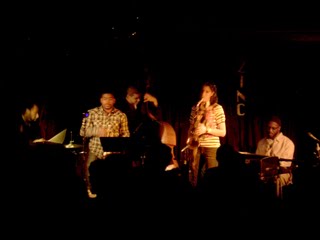 The
Chelsea Baratz Quartet
was up next at the Zinc, offering a somewhat watered-down set, pianist Orrin Evans and trumpeter Corey Wilkes gleaming with flashes of imagination. Mid-set I rushed back to Le Poisson Rouge, just in time to catch pianist
Eric Lewis
play Nirvana's
Smells Like Teen Spirit
, followed by Evanescence's chart-topper
Going Under
.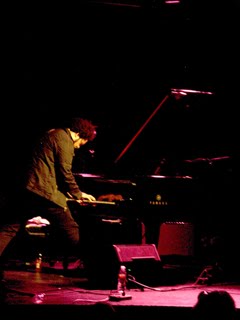 Lewis, hammering the piano with the thrust of his entire body, was thrilled to have the oppurtunity to "treat the piano like a rock guitar", as he put it. "Feel that! Rock jazz! You heard it here first!" he exclaimed. Going straight into
It Don't Mean a Thing
, Lewis reminded the audience he'd played with the likes of Elvin Jones, Roy Hargrove and Cassandra Wilson, too.
Nicholas Payton's SeXXXtet left me wanting (and wondering why he was singing). I headed across the street to Kenny's Castaways to bask in the good vibes of the quirky, high-spirited Matt Wilson Quartet. Coating virtuosity with a layer of light-hearted merriment, Wilson, donned in a leopard-skin skirt and long black wig, matched his signature playfulness with an abundance of creativity, propelling his strong sense of history into the future. I stayed put for drummer Bobby Previte's New Bump Quartet with bassist Brad Jones and saxophonist Ellery Eskelin, Bill Ware's digitized vibraphone enhancing the electrifying overall effect, and Matt Wilson joining on snare drum towards the end of the set. Round midnight, when I thought I could hear no more, I surrendered to Mark Guiliana's Beat Music, listening from the crammed balcony as guitarists Nir Felder and Aaron Dugan played around Guiliana's beat-driven grooves, appearing on an upcoming album co-produced by Meshell Ndegeocello.
The second night of Winter JazzFest offered an even larger artist lineup, kicking off at 6 p.m. with a soulful solo performance by Italian singer Carmen Consoli at Le Poisson Rouge. The audience enjoyed her percussive acoustic guitar playing and expressive delivery through a mixture of Italian song, indie-rock, jazz and blues. Dedicating one of the tunes to her hometown of Catania, Sicily, Consoli explained that she was born between sea and volcano, fire and water, elements which have clearly informed her music and performance style.
Bassist Ben Allison followed, featuring violinist Jenny Scheinman, Shane Ensley on trumpet, Steve Cardenas on guitar and the killer chops of Rudy Royston on drums. The band played material from Allison's recent recording Think Free, with which the audience seemed to be well-acquainted. Introducing the crowd-pleasing Man Size Safe off Little Things Run the World, Allison revealed that it was "part of the Dick Cheney suite I've been writing for the past nine years". The energetic set ended with a guest appearance by Joey Arias, delivering a moving rendition of the theme song from Philadelphia.
Dashing over to Sullivan Hall, but unable to get beyond the front door to see (or even hear) Gretchen Parlato, I headed over to Kenny's Castaways for rising young bassist Linda Oh and her quartet. Sound problems made it difficult to get a clear impression of Oh's playing (on electric) or to the effect of the electronic samples she introduced. Next up at Kenny's was the JD Allen Trio, Allen's deep, penetrating sound on tenor heating up the already sweltering room. His band mates - Rudy Royston on drums and Gregg August on bass - displayed a strong synergy as they dug deep into material from Allen's 2009 album Shine. The trio elicited enthusiastic audience appreciation, a woman across the room dancing joyously (yes!) while a gentleman standing beside me hummed some of Allen's memorable themes.
Squeezing through the crowd I made it back out and dashed over to Sullivan Hall to witness Dr. Lonnie Smith tearing it up with his funk-soul-jazz recipe, then back to LPR, where I caught the last few moments of Benin-born guitarist/vocalist Lionel Loueke. Managing to get just past the door, I saw and heard enough to know he had captivated and moved the crowd with his brand of melodious African jazz. It was now almost 11 p.m., and I was only about halfway through my itinerary...
Over at The Bitter End, progressive funk-jazz-rock band Rudder (Chris Cheek on saxophone, Henry Hey on keys, Tim Lefebvre on bass and Keith Carlock on drums) were getting ready to hit. "Winter JazzFest is officially sold out!" announced Adam Schatz of Search & Restore, guest curator at Kenny's Castaways, as he presented the hard-driving, genre-defying band, which seared with infectious energy. Unable to tear myself away, I missed most of Vijay Iyer's trio, playing music from his latest album Historicity, widely considered one of the best albums of 2009.
Eager to hear the promising Ambrose Akinmusire Quintet, I headed back to Sullivan Hall. Winner of the 2007 Monk Competition, the young, gifted trumpeter generously shared the spotlight with his band mates - Walter Smith III on tenor, Taylor Egisti on piano, Harish Raghavon on bass and Justin Brown on drums - all abounding with skill and creativity. After a long night I was elated to finally score a bar stool and sat myself down to hear startling drummer Chris "Daddy" Dave with the inimitable Derrick Hodge on bass, Kebbi Williams on tenor, and Casey Benjamin joining the fold mid-set, adding some fiery intensity. Dave drew a late-night audience comprised of numerous musicians who had played over the course of those two nights, some listening intently, others conversing by the bar - a sight not uncommon throughout the festival, as artists rallied to support one another.
And the music kept going till 4 a.m.
Among the shows I regretfully missed due to time/venue conflicts were the Jenny Scheinman/Jason Moran duo; the Bitches Brew Revisited project; Tyshawn Sorey's Koan; John Hollenback's Claudia Quintet, which apparently tore it up; Mike Reed's People, Places & Things; Oran Etkin's fusion of traditional Malian and Jewish music; the William Parker Quartet and others. The music from the 18-or so shows I did manage to catch is still swarming in my head as I write these lines, continuing to energize and inspire - not only me, it seems, but much of the jazz community. The sight of venues packed with people eager for jazz was uplifting (the ticket price of $25 for an all-night, all-club pass - or $30 for both nights - was no doubt a factor). There was a much-needed buzz in the community and on the streets, supporting the broad spectrum of jazz voices on the scene today, some working more within the tradition while others stretched into a broader aesthetic, melding jazz with other genres and musical influences from around the world.
Winter JazzFest is, as noted by Jason Moran an a recent LA Times interview, unlike most other corporate- and sponsorship-heavy jazz festivals. Taking place in small clubs rather than large concert halls, its audience - ages ranging from twenties to sixties to the 85 year-old George Wein - was not your typically polite, clapping-on-cue crowd; they were rowdy and invigorated. Their enthusiasm, coupled with the vast and varied amount of captivating material and technical aptitude, serve as the ultimate, unequivocal and vociferous response to the ongoing discussion surrounding the current state of jazz.
Labels: Concert_review, festivals